June Opie Cottage
June Opie Cottage offers affordable accessible tourist accommodation for wheelchair travellers.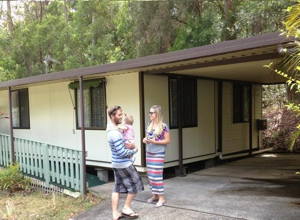 This cottage, which sleeps up to 7 people, has been specially modified for wheelchair guests. It is fully self-contained with private facilities and a direct view of Queens Lake. The cottage is 8.1m X 6.2m and consists of two bedrooms, a bathroom, lounge and kitchen. Access is via a ramp and the view from the deck across Queens Lake is unique. Blankets and pillows are supplied, linen and towels are available for hire.
June, an author and polio victim, was a long term resident of Laurieton Lakefront. She was confined to a wheelchair and lived in this cottage with its prime position overlooking Queens Lake.
June inspired people worldwide with her tireless work on behalf of people with disabilities. She died in 1999, leaving behind her a legacy of determined independence and individualism that is clearly portrayed in her best selling book, "Over My Dead Body" and its sequel, "Over My Dead Body 40 Years On". Since her death, June's cottage has been modified and modernised to create a facility especially adapted for wheelchair living.
"I am a double amputee and I found June Opie Cottage to be very accessible. It was wonderful, thank you."
"We have a daughter with cerebral palsy and this has been the first accommodation in 3 weeks which has made showering her easy. Thank you so much"
Special Features of the Cottage
Outside
Ramp 1 metre wide with a 1.14 gradient
Attached covered carport 3.5 metres wide with room for getting into a wheelchair
Front door access is 800mm sliding door
Glass in front door has safety markings
Front door is ramped for easy access
Lounge
TV placed low for easy access to control
Room to manoeuvre a wheelchair
Wide 1.5 metre entrance through to kitchen
Hallway
1.1metres wide large sliding door
Main Bedroom
Sliding door 820mm wide
Bed 480mm high (lower than normal) with 250mm access beneath and compressed matress
Touch lamps
Light switch lowered for easy access
Small dressing table with underneath space and mirror 820mm from floor
Distance between bed and wall 1.45 metres to accommodate a wheelchair
Distance from end of bed to window 900mm
All windows low enough to see out from a wheelchair
Wardrobe with low hanging rail for easy access
Second Bedroom
Sliding door 900mm wide
Bunk with double bed bottom and single top
Plenty of space beside bed, 150mm beneath bed
Wardrobe with low hanging rail for easy access
Open shelving for clothes
Kitchen
Refrigerator with large handles for easy opening
Sink with lever action tap at front
Room for wheelchair under sink and stove with barrier to protect against contact with hot pipes
Large drawers for crockery, cutlery and saucepans for easy access
Power points for jug, toaster and air conditioner within easy reach
Accessible microwave
Bathroom
Wide open door with ramped entrance for easy accessain for extra space
Sliding door with alternative curt
An "open plan" wheel in design shower
Mobile shower chair available
Capstan taps and portable adjustable shower head
Fittings within easy reach
Grab rails near toilet and shower
Space beside toilet for a wheelchair to reverse in
Toilet paper holder within easy reach
Regular toilet, raised toilet seat available
Low mirror
Wash basin with leg room beneath and lever action taps
Towel rings and hooks within easy reach
LINEN AND TOWELS PROVIDED
"The cottage suited my needs like no other holiday cottage I've been in. You have done a marvelous job, for which many disabled folk will be so grateful. I have never met anyone who cared enough and has done so much to provide a suitable place so the disabled could have a holiday feeling they were coping and enjoying their holiday like a "normal" person"
For further information on resources for people with disabilities, check out www.e-bility.com.au
Contact Us Now to make an enquiry or booking!